Boekproject "Sammlung Weltensand - The Journey"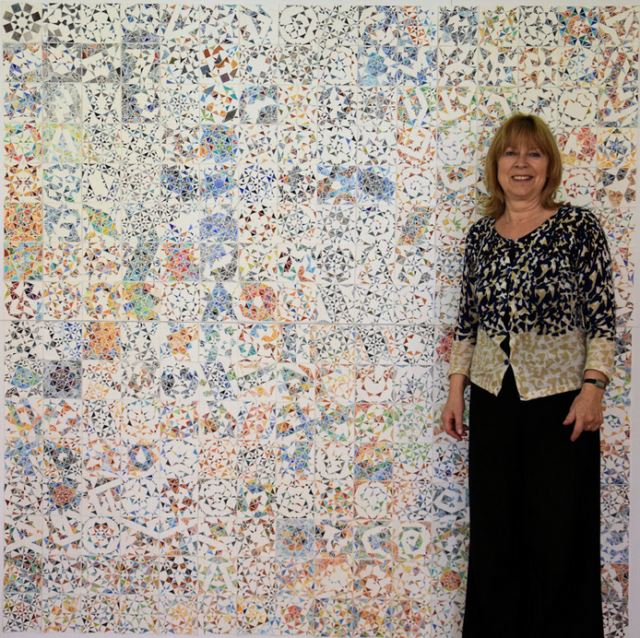 U kent Elvira Wersche en de bijzondere projecten die zij met haar Sammlung Weltensand de afgelopen 14 jaar
internationaal heeft gerealiseerd.
Prachtige foto's zijn van de projecten gemaakt en internationaal vermaarde auteurs schreven over Elvira's werk en filosofie.
Het wordt hoog tijd dat daarvan een boek wordt gemaakt!



"Sammlung Weltensand - The Journey, Elvira Wersche"

verschijnt in 2015 bij 99 Uitgevers/Publishers, Haarlem.



Om deze publicatie financieel mogelijk te maken zijn wij een crowdfunding-project gestart en hopen wij samen met u het boek te realiseren.
U kunt het boekproject steunen door de aankoop van een of meerdere miniaturen. (klik op deze link)

Elvira heeft 256 geometrische miniaturen geschilderd.
Alle miniaturen samen vormen een totaal kunstwerk (200 x 200 cm), waarvan u hieronder een impressie ziet.

Miniatuur,12 x 12 cm, aquarel, gesigneerde, prijs: slechts € 125,-- En uiteraard krijgt u ook dit uit te geven boek.
Geef in HET AANKOOPFORMULIER de coordinaat op van de gekozen miniatuur (bijv D - 6).
NB KLIK OP DEZE LINK wel even of uw keuze nog beschikbaar is.
KLIK OP DE AFBEELDING HIERBOVEN om gedetaileerder het werk te bekijken om zo uw favorite Miniatuur kiezen.

Bookproject "Sammlung Weltensand - The Journey"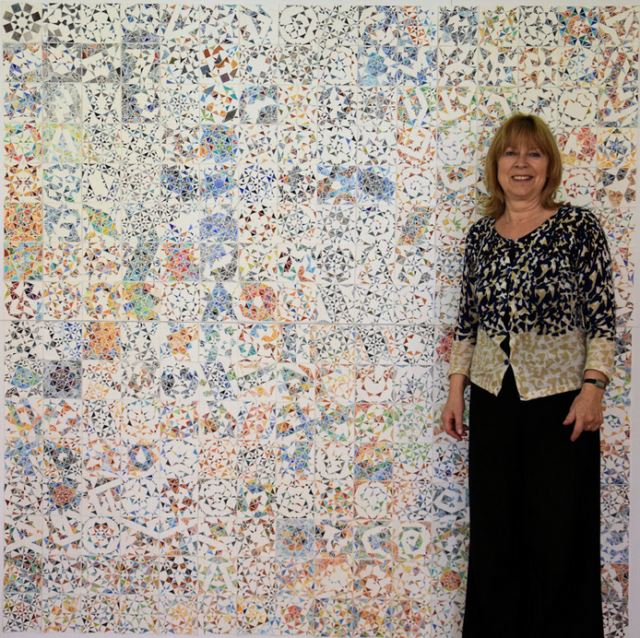 You know Elvira Wersche and her special projects she created over the last 14 years.
She worked internationally with her Sammlung Weltensand.
Beautiful photos are made of the projects and renowned authors wrote about Elvira's work and philosophy.
Now it is time to create an art book!



"Sammlung Weltensand - The Journey, Elvira Wersche"

published by 99 Uitgevers/Publishers, Haarlem in spring 2015.



To make this publication  financially possible, we launched a crowdfunding project and we hope to achieve this goal with your help .
You can support the book project by purchasing one or more miniatures. (click on this link).
Elvira has painted 256 beautiful geometric miniatures. Each shareholder may choose such a miniature work of art!
All miniatures form a work of art (200 x 200 cm), of which you can see an impression.

Unique miniature, 12 x 12 cm, watercolor, signed, price: only € 125, -
Fill in THE ORDER FORM de coordinates of your favorite miniatuer (f.i D - 6).
NB CLICK THIS LINK   to check the availability of you choice.
If  you CLICK ON THIS IMAGE you will see a matrix where you can view all miniature in detail so that you can choose you favorites.
---